Monday, October 22, 2007
Tuesday, October 16, 2007
Another CMJ '07 Post
Two more bands that you don't want to miss during CMJ:
The Shackeltons
are also playing at one of the showcases I mentioned yesterday. Planetary @ Pianos (with Benzos) on Fri. And then on Sat they will be at Cake Shop @ 9.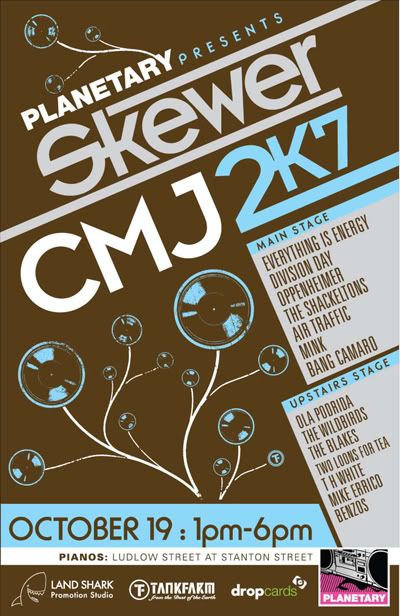 Alamo Race Track
are at Ace of Clubs tomorrow @ 8.
Monday, October 15, 2007
A CMJ '07 Post
Anyone still out there? Needless to say, VERY VERY VERY busy recently. Although, I did get to see Nada Surf (Maybe my fav Nada show to date! New songs were solid.) and The Jealous Girlfriends (liked them much more than the last time I saw them at Mercury) at Union Hall last week. So while I have a second to get a post up, here's where you can go see some past KNOCKOUT bands this week:
Mussels
- Midway on Sat @ 8. *Highly Recommended
The
Aeroplane Pageant
show at Union Hall is with two other KO bands, The Mugs and Beat Radio. Hey out-of-towners, if you want to experience the best in NYC rock, it doesn't get much better than that. Also *Highly Recommended.
Beat Radio
,
Sure Juror
, and The Diggs are among the many Underrated/Indaba/This Side Up loft bands. Info
here
.
The Diggs
are also playing @ Pat's showcase with
Bridges & Powerlines
.
You can also catch
The Mugs
at Gothamist/WOXY @ White Rabbit. Info
here
. Quick sidenote - White Rabbit was amazing last year. Spent almost as much time there as I spent at Fader.
Other KOers that are playing at White Rabbit -
The Muggabears
and
Charles Bissell
.
More info on Sound Fix/CMJ
here
.
You can go see
The Party Faithful
(formerly Lolita Bras) at my favorite NYC hangout, Matchless on Thurs.
The Lisps
are playing @ the After The Jump show @ The Yard.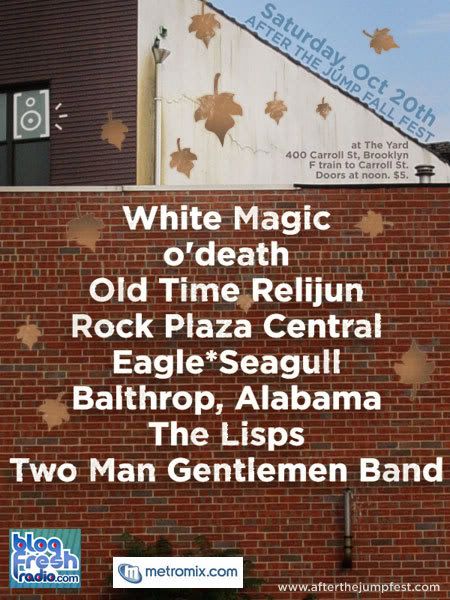 Info on all of the ATJ shows, including the one that
The Antlers
are playing at, can be found
here
.
Benzos
are going to be very busy this week:
Man In Grey
have 3 CMJ shows, including the spectacular Stereoactive/Hot Rocks Party. More info
here
.
Cinema, Cinema
are at Midway tomorrow.
If I get a chance, I'll try to get up another post about some non-KO bands that are not to be missed.