Mid Year Top Five 2006
We're just about half way through 2006 and I'm experiencing list withdrawal. So here's a list of my Top 5 favorite albums of 2006 so far.
1)
Thom Yorke
-
The Eraser
Yes, it hasn't been released yet, but it has been leaked for a while now and it's everywhere. The album is an instant classic. Harrowdown Hill is my 2nd fav song of 2006 so far.
2)
Destroyer
's Rubies
I have always preferred the Bejar New Pornographer songs. This album sorta feels like a compilation of those songs.
3)
Birdmonster
- No Midnight (
Myspace
)
This album came out of nowhere and was exactly what I was looking for. Straight up rock done right. Contains my #1 fav song of 2006 so far - Spaceman.
4)
Islands
- Return To The Sea
A beautiful album. Fascinating beginning to end. Interesting imagery. But most of all, satisfied my craving for more Unicorns.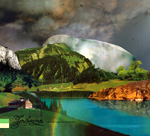 5)
Jeniferever
- Choose A Bright Morning
Not released in the US yet, but you can get it as an import at
Amazon
. This album is perfect for a lazy Sunday morning. Put it on, sit back, and relax.
For those playing along at home, here was my mid year list for 2005:
1) Bloc Party - Silent Alarm
2) The Frames - Burn The Maps
3) The Decemberists - Picaresque
4) Crystal Skulls - Blocked Numbers
5) Stars - Set Yourself On Fire
Previously:
Best of List - 2005
Best of List - 2004